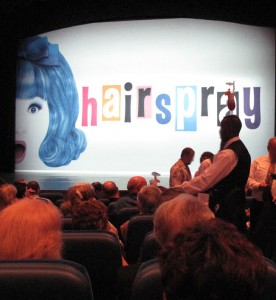 Sunday – Day 2 on Oasis of the Seas.
After a long nights sleep, which we desperately needed, day two started with breakfast at the the Windjammer Cafe. The view is spectacular and the food is not bad either! Unlike yesterday afternoon, the skies are blue today and the sea is calm.
We played a little miniature golf then headed over to the pools. The pools are nice, but wish they had more, it was a little crowded. The hut tubs/whirlpools are the best and we spent most of our time in one of the larger ones. They hang and overlook the side of the ocean.
It was a black tie event for dinner today so we headed back to get ready. Dinner was ok, sorry no photos of it today, wife became a little nauseous all of a sudden, it was probably due to the movement of the ship, we were beginning to feel it a lot more that evening.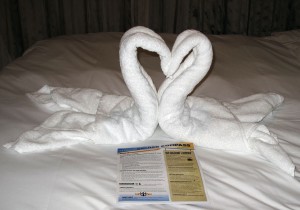 After losing a few bucks at the Casino, we headed over to see the musical production Hairspray at the Opus Theater, which is huge, holds over 1000 guests. I was really surprised, it was great!
At the end of the night we found a nice surprise in our stateroom, flamingos!



Oasis: Day 1 – Day 3 – Day 4 – Day 4 (part 2) – Day 5 – Day 5 (part 2) – Day 6 – Day 7