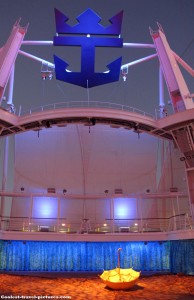 Day 5 – Night shows on Oasis of the Seas
Earlier in the day we had a wonderful time in St. Maarten/St. Marten, but at night it was time for two great shows onboard Oasis of the Seas. As I mentioned earlier on day 3, the aqua show Oasis of the Dreams was canceled due to excessive movement of the ship, so it was postponed for tonight. However, we were also booked for the Ice Show later that night, two shows, one night, it was going to be a spectacular night!
We arrived early to the Aqua Show of Oasis of the Dreams and chose a couple of seats near the center. We had a wonderful view of the stage and unlike a couple nights ago, tonight the ship was still docked in St. Maarten, so no rocking of the ship. It was about 6pm or so and the night sky was a perfect backdrop to the wonderful lights illuminating the stage. The show consists of dancers, divers and music. I was surprised at how short the program was in duration, however it was well worth the time. I was enjoying the show so much, I only paused to take a couple of pictures. The images you see were taken at the start of the show.
Later that night, we headed over to the Ice Show Frozen in Time at Studio B. Only one word can describe the show and that is WOW! The studio is large and seems like 97% of the seats all have the same excellent view of the rink. (TIP:  Arrive early to get your seats.  Although most of the seats have a great view, there are a few which are blocked by support columns. I noticed a few people sitting behind them having to move their head left and right to see the show.)  Once again we had center rows, right in the middle as I normally like it (see photo). The place must hold a few hundred people but because of the configuration of the seats, you feel very close to the ice skaters. The performance was wonderful and surprisingly a few were doing some very high level skating maneuvers. A special treat during the ice show included the world renowned Ilana Yahav creating her beautiful sand art. Not sure if she is doing this on a permanent basis on Oasis, but she was featured during that night. You can see more of her sand art on her website SandFantasy.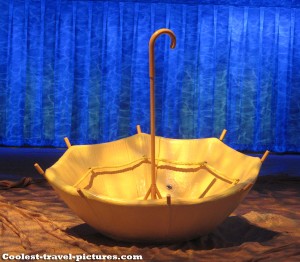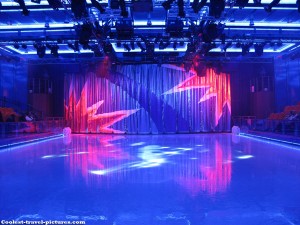 ______________________________________________________________________________________________________________

Oasis of the Seas: Day 1 – Day 2 – Day 3 – Day 4 – Day 4 (part 2) – Day 5 – Day 6 – Day 7