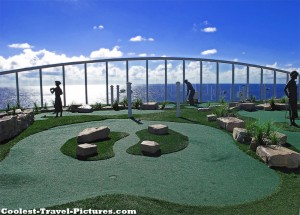 Day 6 – At sea exploring on Oasis of the Seas
The 6th day on Oasis was spent at sea as we took this opportunity to relax and do more exploring throughout the ship. I'm not one to exercise while on vacation but I was curious to see the jogging track that runs around the ship. It's actually very nice and has some nice views. To travel one mile we had to walk 2.4 laps. We walked the entire distance enjoying the fresh air and funny quotes aligning the track. Towards the area near the gym, a mural of runners encouraged us to try a second lap!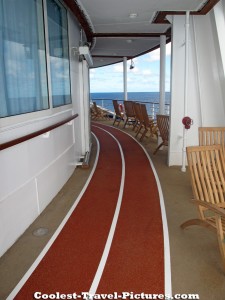 Later in the afternoon we spent time playing miniature golf. Its not very big, but perfectly situated near all the water sports and Zip Line. The panoramic views of the ocean were wonderful from this area. Along the edge of the 3rd hold you're literally standing on the side of the ship with a breathtaking site of the Caribbean Sea. The golf area is lined with fun bronze-like statutes…the dog was my favorite.


The rest of the day was spent relaxing by the pools. We headed to the top deck and with a couple of towels blocking the light breeze, we waiting for the sunset. The ship is so large, there's room to spare for all to enjoy.  As you can see from the picture, it's not crowded at all. We expected to be overwhelmed with people since the ship holds over 6000, but its so large that space is plenty to go around.
Finally, at night we returned to The Opal Theater for a show called Come Fly With Me. I won't give too much away other than it was a spectacular experience that kept the audience constantly surprised with aerial events. All three shows at this theater have been great, but I suggest to arrive early so you can appreciate the beauty of the theater before the show starts.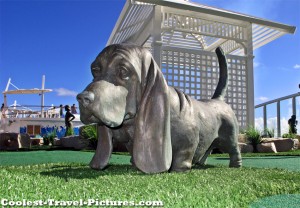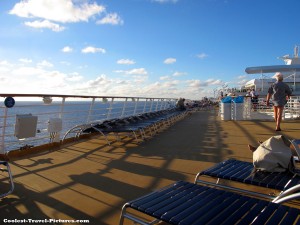 ______________________________________________________________________________________________________________

Oasis of the Seas: Day 1 – Day 2 – Day 3 – Day 4 – Day 4 (part 2) – Day 5 – Day 5 (part 2) – Day 7