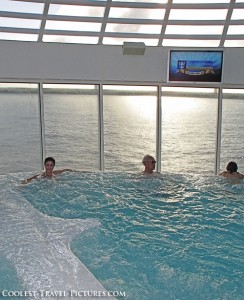 By now you've probably read and seen all the pictures during my trip on Oasis of the Seas. It was a wonderful experience, but one thing I wish I'd taken during the trip was an inexpensive waterproof camera! With all the pools, jacuzzis and beaches, having an inexpensive waterproof camera would have allowed me to capture my trip like never before.
I've talked about camera's in the past but always left out a waterproof version because of the price, which were expensive at the time. An underwater housing for a digital camera is also expensive and can run a couple of hundred dollars. But today I found a very nice and relatively inexpensive waterproof camera.
The Fujifilm FinePix Z33WP 10 MP Waterproof Digital Camera with 3x Optical Zoom, at only $119.49 is a great deal. Waterproof up to 10 feet, the camera is perfect for those days you're at the pools on Oasis or Allure of the Seas. Not to mention the jacuzzi, take a look at the picture on the left, I took this picture as I was out of the jacuzzi because I didn't have a waterproof camera. If I had the Fujifilm FinePix Z33WP waterproof camera, I could have taken pictures while I was IN the jacuzzi!
There are so many things to pack and prepare for cruise on the largest ship in the world, wish I had thought of everything, but now I know for next time!