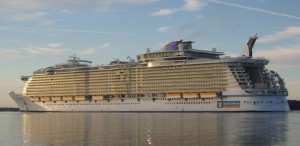 As I finish up packing some last few things, I begin to pack my camera equipment into a backpack. For this trip I decide to leave the Pelican case behind and load everything into my backpack. That's a laptop, a couple of cameras, batteries and power supply. Wife is wondering if we are going on vacation or work! However, she forgets, I like taking photos!
Its raining outside and has been the entire week, looking forward to the Caribbean warm weather! The photos right now on this site are stock photos of the ship, can't wait to add many, many more of my own! I'll try to update it daily, but depending on my schedule it may be every other day.
Oasis of the Seas departs out of Ft. Lauderdale, Florida. The first 2-3 days we are at sea, then our first stop will be Charlotte Amalie, St. Thomas (U.S. Virgin Islands), then the following day arrive at Philipsburg, St. Maarten, (Dutch/French island), our next stop will be Nassau, Bahamas. Then finally arriving at Ft. Lauderdale. This is our first cruise and looking forward to it, 7 days at sea, or at least a large floating resort!