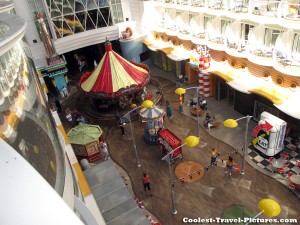 I've received a few questions regarding our boardwalk balcony stateroom #10317 and the view from it during our trip on Oasis of the Seas. I've included several pictures of our view facing the Aqua Theater, but I thought a few more looking down towards the boardwalk and the merry-go-round would be nice. This area is very active and can be loud but only if we had our balcony sliding door open, otherwise the sound would not enter the room.
I was surprised to see how late at night, after all the shows were over, this area was mostly empty. My wife and I would take a walk after 10pm and there would only be a handful of people. It was the perfect time to take some nighttime pictures. The merry-go-round and the restaurants are either closed or closing, so there is not much to do other than take pictures.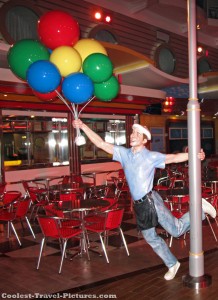 As you can see from the photo of the balloon-man at the boardwalk, behind him Johnny Rockets was empty. It was open, but to tell you the truth, we never really noticed too many people eating there. It's not one of the restaurants included in the price of the cruise so the cost is extra. And if you're like me, coming from the U.S./Los Angeles area, Johnny Rockets is a common restaurant and can be found anywhere. I preferred to eat at the Solarium, Sorrentos Pizzeria, Windjammer or any of the other main restaurants…but that's just me! 🙂
Finally, someone asked if the merry-go-round was large. Not really, but it was big enough and I rarely noticed a line for it. It runs most of the day as long as it doesn't rain. My wife got on it several times and its perfect for all ages!
So when are you going on Oasis? Or have you already gone? Have any pictures to share? If you would like to share your experience on Oasis and/or a few pictures on this site, use my contact page to send them to me.