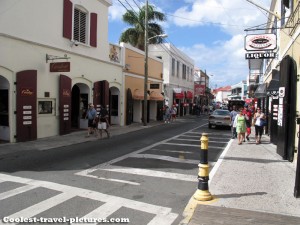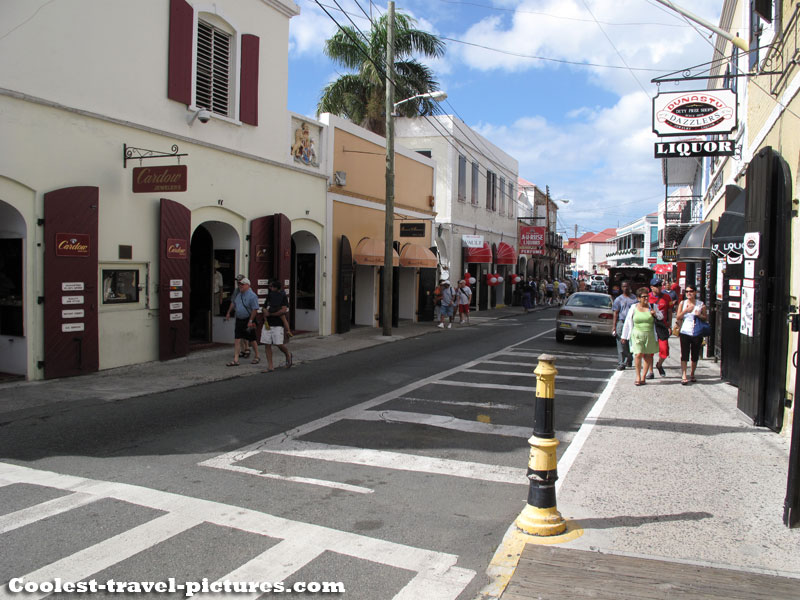 Tuesday – Day 4 Oasis of the Seas – Charlotte Amalie, St. Thomas, U.S. Virgin Islands
Today our ship arrived at St. Thomas. We made sure to wake up early this morning and have breakfast before we left the ship. We stopped by the Windjammer buffet restaurant on the ship and sure enough it provided a spectacular view of St. Thomas's picturesque mountains. After a nice breakfast, we proceeded to head out in a day of adventure, and it did turned out to be an adventure!
Our first stop was Main St. for some shopping, but to our surprise, its basically block after block of traditional buildings converted to jewelry shops! That's right, if you're looking for locally created art, crafts or anything unique, this isn't the place. I was very surprised to see so many people shopping for watches, diamonds and other jewelry that normally sold in the U.S. for 10-20% less, seems the cruise ships and locals have managed to convince the tourists that items were highly discounted. I guess good marketing goes a long way! You might be able to find something you like, so don't let my experience hold you back, but I will say this, be very cautious, I noticed many misrepresentations of items that were highly discounted, fakes which justified the lower amounts from a store next door with double the cost for the same item. Honestly, you're better off buying your jewelry from Amazon
, at least there you can return an item!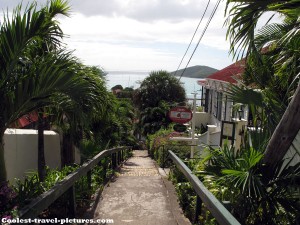 After a long walk on Main St., we headed up a couple of blocks to Blackbeard's Castle. You have the option of taking the paid tour which allows you to see the Danish Haagensen House and the old Scotman's New Orleans style Villa Notman in addition to Blackbeard's Castle or (something the tour guides wont tell you) you can walk on your own to Blackbeard's tower and grounds at no charge! However the old Danish House and Villa will not be available to you. For us, we wanted to see the grounds and the breathtaking view. After walking up the 99 steps (also free 🙂 ) we walked in to Blackbeard's Castle (again for free) climbed up the tower for some excellent views and photo opportunities.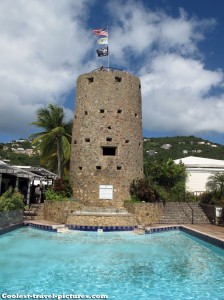 Feel like a swim? No problem, on the ocean facing side of the tower grounds lies a pool available for those daring to take a dip! The statues are awesome and the views are one of the best in the island. We spent a while taking pictures and relaxing before walking down the 99 steps.
The day was early, our ship was not scheduled to depart for at least another five hours so we decided to visit the beach at Magen's Bay. St. Thomas is easy to get around, everywhere you go you can hop on small taxis that are going to several destinations. We found the one headed to Magen's Bay, along with at least 10 other people (taxis are actually trucks converted to small buses) we drove up and over the main mountain top. The views were very beautiful but short, the drive was only about 10-15 minutes, as I mentioned earlier, its easy to get around the island in a short period of time.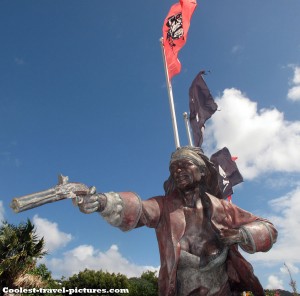 Magen's Bay beach was full of tourists, in fact about 95% of the people there are tourists from the cruise ships. The beach itself is very nice and safe, calm waters, so for those with kids its especially nice, no need to worry about rough waves. After walking a short while along the beach we finally found an open space to lay out and relax. They have small paddle boats for rent and one can easily order drinks while relaxing at the beach. It was a cloudy day so we decided to stay only for a short while.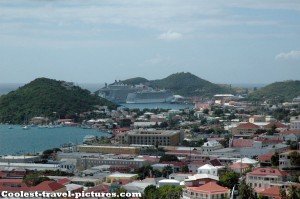 On the drive back from Magen's Bay was another fun
trip. We hopped on a taxi loaded with other tourists also headed back to the Oasis of the Seas. The driver must have been in a hurry, because when he arrived to downtown in Charlotte Amalie, he decided to take short cuts through some very quaint but narrow streets! As he narrowly missed cars parked on the side of the street, he managed to maneuver this large taxi bus through town. With every near miss, the passengers on our bus cheered and laughed with excitement! I must admit it was exciting but scary at the same time!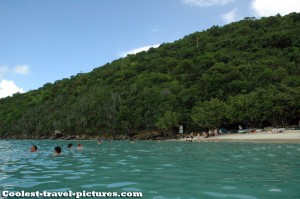 Finally we arrived at the port and returned to our ship. Everyone has to go through security to get on board. They screen our bags and everyone goes through the metal detector. I was carrying a backpack with a bottle of water which I had purchased earlier on the island, luckily the person operating the screening machine didn't catch it. Why you ask do I mention the water bottle? Well, on the ship, they want you to purchase their bottled water, which costs $4.25 per each. I purchased the same bottle on the island for $1. I wasn't smuggling the bottle, it really was an accident, but I'm glad I forgot it and I was not told to throw it away.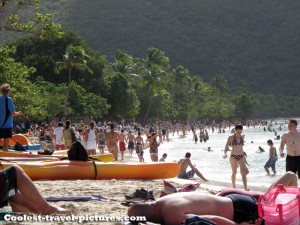 TIP: on the ship, both bottle water and sodas are very expensive but lemonade, apple juice and regular filtered water are free. Take your own empty water bottle and fill it up with the free filtered water at the many restaurants. The filtered water tastes great, perhaps due to Oasis being a new ship, either way I couldn't tell the difference from the filtered and bottled water.
After dinner, while docked at the port, we headed over to the large jacuzzi along side of the ship near the Solarium. Later that night it was time for us to attend a show at the Opal Theater, I'll include a short post about that later.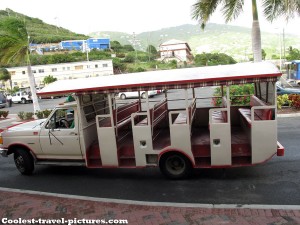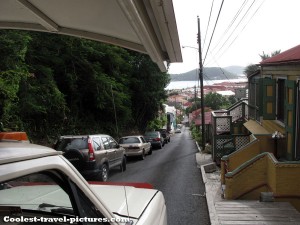 ________________________________________________________________________________________________

Oasis of the Seas: Day 1 – Day 2 – Day 3 – Day 4 (part 2) – Day 5 – Day 5 (part 2) – Day 6 – Day 7