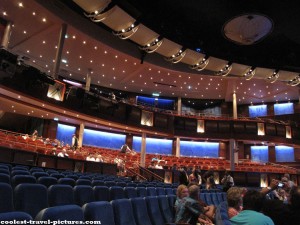 Tuesday Night – Day 4 continued
After a full day on St. Thomas and a quick bite to eat, we headed over to the Opal Theater on deck 4. Having already made the reservations before we left home for all our shows, we entered with no problems. A couple of nights before, we had seen the show Hairspray and enjoyed it very much, tonight was a musical group called Mosaic.
Mosaic is a vocal group made up of 6 men. They don't use any instruments, only their natural vocal sounds to create music! They sound like a band, with musical instruments and all, but everything you hear, the vocals, guitars, drums sounds etc, all came from their voices! It really is a unique show.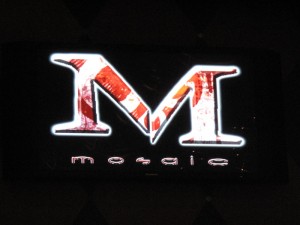 At first, I didn't know what to expect, but I am glad Oasis booked them for the cruise. You can find more information about them here on their website Notaboyband.com.
I must hand it to Oasis, because it seems that every minute of the day and night there is something to do and there is always something going on for everyone. As soon as the show ended, we headed over to the Promenade for a special disco party. The Promenade soon became full of people singing, dancing and moving in unison to disco songs. Ken Rush, the cruise director was leading the way dressed in all white, while his disco beauties danced along the crowd.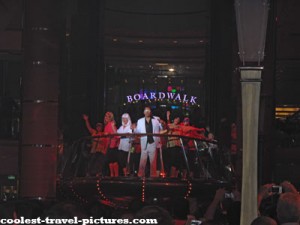 With a team of people taping the event, Oasis captured everyone dancing and having fun to 70's music. It was especially entertaining the day after, since it was played on a special channel via our staterooms! My wife was recorded several times moving to the beat of YMCA!
I took the last picture as the party ended. Ken and his disco girls hopped on the Rising Tide Bar and finished the night rising up to Central Park. You can see the entrance to the Boardwalk behind them.

______________________________________________________________________________________________________________
Oasis of the Seas: Day 1 – Day 2 – Day 3 – Day 4 – Day 5 – Day 5 (part 2) – Day 6 – Day 7