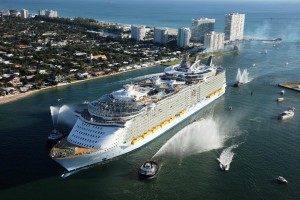 I am so excited, tomorrow night we will be flying out to Ft. Lauderdale to go on a 7-day cruise on the Oasis of the Seas. Royal Caribbean's latest and largest ship, actually the largest ship in the world, will be heading out on Saturday for its second full 7 day voyage. I'm going to be taking lots of photos and video.
If everything goes well, I'll be posting daily and showing everyone my photos of the day. I plan to take a digital SLR and two compact point & shoot cameras. The ship is so large with a capacity of over 6000 guests, lots of pools, a zip line, central park and a boardwalk! Funny thing happened, we booked a simple ocean view stateroom "guarantee". I have never been on a cruise, so it didn't really matter which
room I got, and since it cost about $200 less than if I had chosen the exact room, with the guarantee I allowed them to choose one for me and I save the money. Well, we lucked out because several weeks later I find out that they upgraded us to a boardwalk balcony stateroom! That one was selling for over $500 more than what the stateroom we originally wanted!
So we are flying out Friday night on Virgin America, love flying that airline! As soon as we get on board, you should start to see some original photos!